Posted October 3rd, 2011 by Sean Phillips with No Comments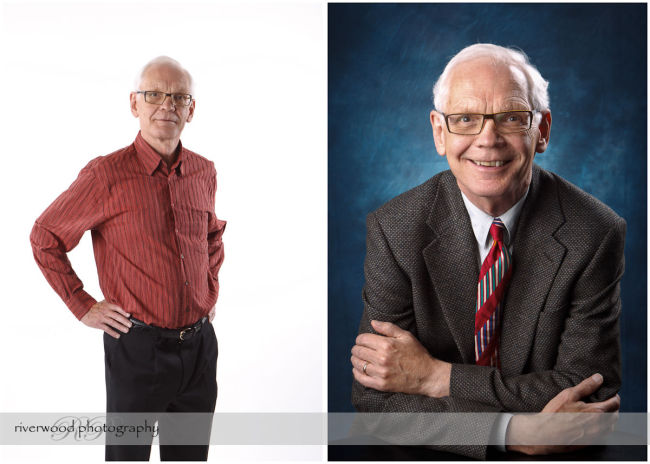 I had an amazing business portrait session recently with George Campbell of Fall Line Systems Inc. Fall Line is a Calgary based management consulting firm that works "with ambitious organizations and their leaders, helping build the vision, capabilities and action required to achieve remarkable results." George came looking for business portraits for use in his corporate marketing materials, on the company website, and in social media promotions. He mentioned that he wanted something that he would be able to use for promotional materials where the background might get need to be removed from image first, so we shot a lot of images on a white background. But he also wanted some more traditional headshots for use in other media, so we also did quite a number of photos using my rich blue studio backdrop.
George indicated that he could probably use several images, so we did a few different outfit combinations and a wide variety of poses. I wanted to make sure that he had a good selection of more traditionally posed images to choose from (for use as an avatar on LinkedIn and on the website), but I also wanted to give him a variety of other interesting choices so that he could choose the right photo for any particular need.
---
Posted February 13th, 2011 by Sean Phillips with 3 Comments
This is the next installment in my journey to share some of the important people and stuff in my life. I'm not sure where it's going to go in the future, but since I shared a few pictures of my daughter Melanie last week, I want to show you my son Andrew this week.
It was just the boys at home. The girls were off doing their own thing and Andrew and I had a relaxed morning and we hung out together at home. Andrew played with his toys and had lots of fun while I did a bunch of errands and cleaned up around the house. I like to watch and wait while Andrew plays. When he gets busy he goes off into his own little world with his toys and he can play by himself for hours. Although he has an ugly cold (and he needs a haircut so badly!) he still had his normally bright and cheery eyes, and of course that had me reaching for my camera. Children are always fun to photograph, especially my own!
---
Posted February 6th, 2011 by Sean Phillips with 3 Comments
A photographer friend of mine recently came up with a really great concept to blog about something important to her on Sundays that she calls "Simply Sunday". I love the idea and I plan to join her in the adventure as often as I can. I know I won't be able to do it every week, but I'm not going to worry about that either! I hope that you will consider joining us in this effort to. Whether you post something on your own blog, on Facebook, on Flickr, or somewhere else that is convenient to you, please just show it off. It doesn't matter what you show, or why you love it, just tell us a little about it. Hit us in the comments below to tell us what you've shared…
These images are of my daughter Melanie. I've obviously got lots of picture frames and mattes lying around and I've often looked at them and thought I should do something a little more creative with them. When I saw Melanie looking very cute this morning, and I knew that I had some wonderful light streaming in the window, I just had to put it all together. I asked her to stick her head in the frame and just be herself. She's very used to being in front of the camera and always feels like she needs to ham it up (see the images at the end of the post). So I love it when I can create a portrait that's just her being her (like the one up top). My family and my children are very important to me, and fortunately I love to make pictures of them. I'm glad they are always willing to go along with me when I have an idea!
---