Posted September 12th, 2012 by Sean Phillips with 5 Comments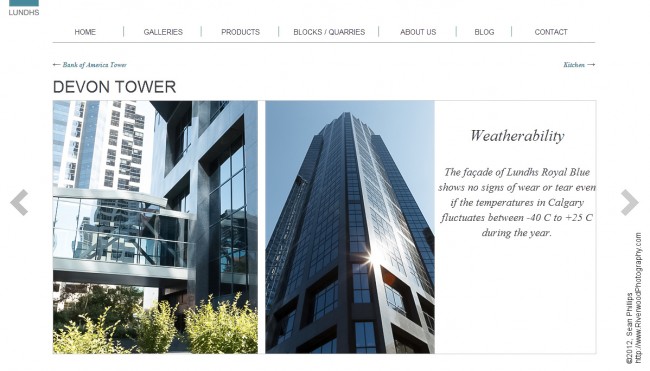 Architectural Images in Use
Architectural Photography at Devon Place in Calgary
It's always fun to see the images that I've created used in interesting places. A series of images from a recent architectural photography session at Devon Place in downtown Calgary (formerly Canterra Tower) were recently used by Lundhs AS of Norway for promotional and marketing use. These images were created to highlight the stonework of the interior and exterior floors and walls of the building. The granite and other stone materials were provided by Lundhs when the building was originally built in 1988. It is beautiful inside and out and the architecture of the building is stunning.
---
Posted July 25th, 2012 by Sean Phillips with No Comments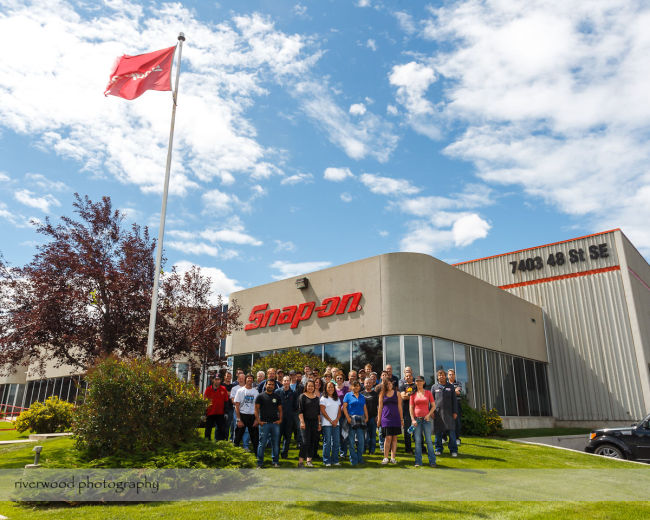 Group Portrait at Snap-on Tools in Calgary
This image is from a commercial client that I worked with yesterday. They needed a group portrait of their Calgary team to display at an upcoming conference. When I arrived at their location I was immediately impressed by the bright colors of the grass and the red sign and I knew exactly where I wanted to make the image. This is not the image they ended up using (because they wanted a closer shot that made it easier to see the faces of the people on the team) but it is one of my favorites from the session.
For more information about headshots and people portraits in the Calgary area please check out our dedicated Calgary Headshots website.
---
Posted May 9th, 2012 by Sean Phillips with No Comments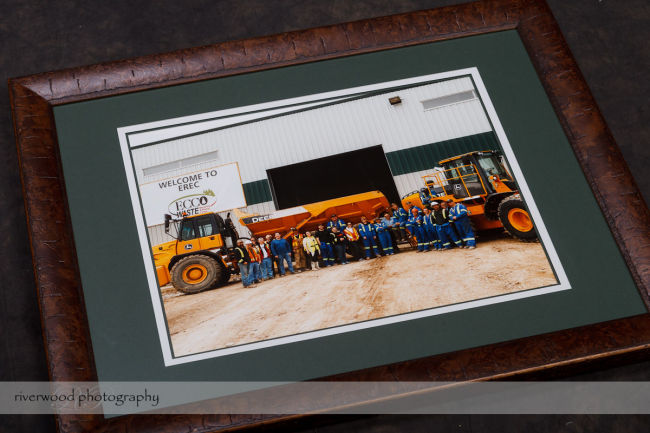 Custom Frame from Timeframes
Custom Frame for ECCO Waste
This is an example of a completely custom frame built to order for one of my Calgary Commercial Photography clients by Karen at Time Frames Custom Framing. I have been working with Karen for almost 2 years now and we have an arrangement where Karen provides a couple of specialty frame options that are always available to my clients. These are hand-made custom frames, but they have been standardized and there are only a couple of sizes and options available at list prices.
---
Posted January 23rd, 2012 by Sean Phillips with 11 Comments
I prepared the above video as part of a presentation that I did last week for some of the other local small businesses that I work with and I wanted to share it here as well. It is an animated slideshow that shows off some of my favorite photography from the last year. I did so many photography sessions all over Calgary last year and it was really hard to narrow it down to just a few images.
I'm close to the end of my second full year as a full-time professional photographer and looking back at all the things I've done and the people I've met is nothing short of amazing. I love the work that I do and I'm so glad that I took the opportunity that life presented me with and ran with it. Thanks to all of you for supporting me and my business!
---
Posted November 17th, 2011 by Sean Phillips with No Comments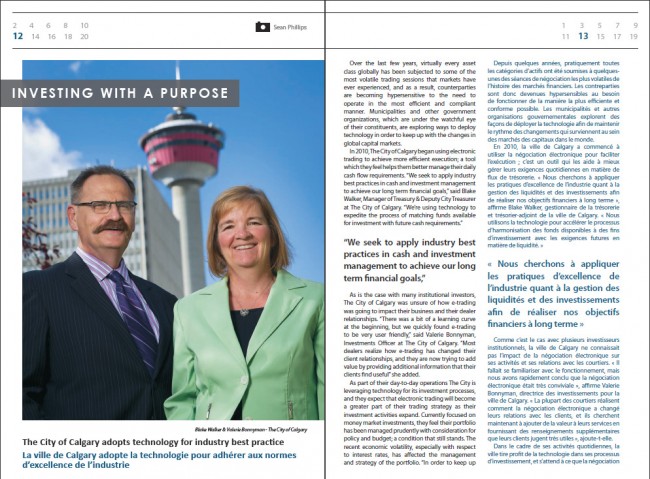 I was recently contracted to create an editorial image for the Fall/Winter issue of "eCanada Bond Review", which is a financial industry trade publication produced by CanDeal for their clients. The image was to support an article about the City of Calgary's use of electronic trading technology in its treasury department, and was to feature 2 city employees. There were no specific instructions on what the image should depict, other than it should be a portrait of the 2 employees. I wanted to create an image that showed something of Calgary rather than to just show the employees in a faceless corporate environment (as editorial images used in corporate magazines so often do).
Because the subjects of the photo both work at City Hall in Calgary it immediately made sense to step outside so that we could include the Calgary Tower in the image. We shot a number of other corporate style images using the glass and metal of the Plus 15 as a backdrop, but I was pretty sure that they would end up using one of the Calgary Tower images. Sure enough they did.
---