Posted September 10th, 2012 by Sean Phillips with No Comments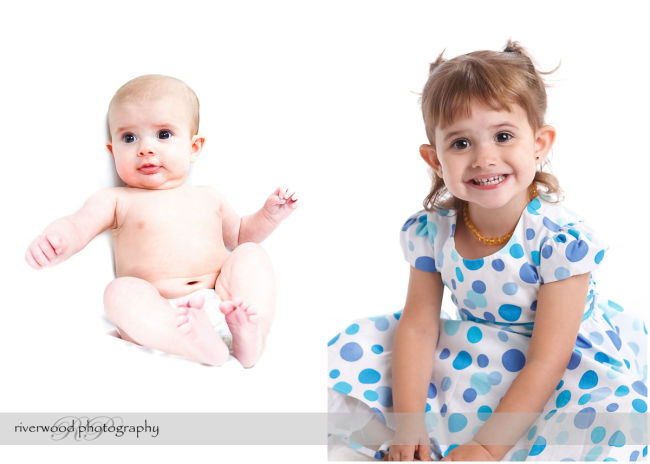 Little Alexis, 3 Months and 2 Years
Then and Now
This is Alexis. She was my first official portrait client when I started Riverwood Photography in Calgary in 2010. I've had the pleasure of photographing her and her family several times since then and it's been really fun to watch her grow from a wee little baby into a beautiful little girl. This image was created during a newborn session for her new baby sister Isabelle. I can't wait to see sweet little Izzy grow up too! Thanks to Nicole and Darren for allowing me to take part.
---
Posted May 10th, 2012 by Sean Phillips with No Comments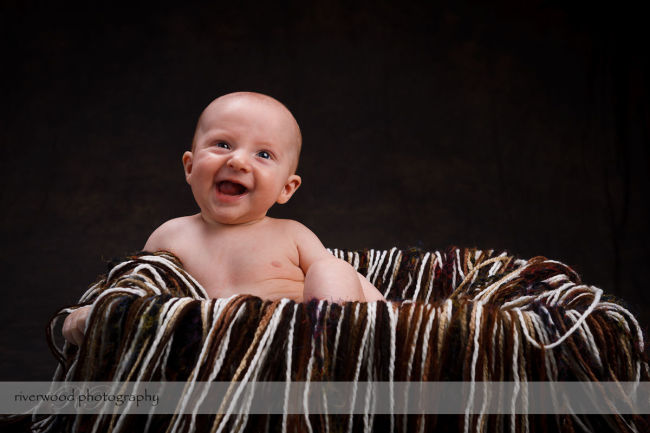 Baby Alex at 4 Months
I had to post this wonderful image of baby Alex with a huge smile on his face. Alex was just a little over 4 months when he came in to my studio for his second portrait session. His first photography session was a newborn session when he was only 5 days old. The change since then is amazing! He is so happy and smiley all the time and he's almost sitting up, he's rolling over, and he's absorbing everything around him.
I had a number of new props and outfits that I wanted to try out, while also capturing the milestones for a 4 month old baby (mainly smiling and pushing himself up off his tummy). Unfortunately the outfits I had were a little small for Alex, but we did get some great shots and captured the milestones that I wanted to see. It was a very fun session and I can't wait to see him again in a few months!
---
Posted September 14th, 2011 by Sean Phillips with No Comments
It has been a very busy summer and I really haven't been able to take the time to do the regular posts on the site that I would normally do. While preparing the newsletter that goes out today (click to subscribe to the newsletter) I knew that I really wanted to show off some of work I've been doing recently, but there was just too much to show and to talk about it all in one email. So instead I created a collage with some of my favorite images from the last few months.
Here are all of those images and you can click on each one to see them in their full glory!
---
Posted April 15th, 2011 by Sean Phillips with No Comments
A slideshow of images of Baby Althea and her Family from a recent Calgary Family Portrait Session. This was a Lifestyle Portrait Session that I did in their home. It was very relaxed and we took lots of time to ensure that the Baby was as happy and comfortable as possible. It was great to meet her and an honor to be able to do this session with the family!
I'm still working up the images but they will be in the client area of the website soon!
---
Posted March 1st, 2011 by Sean Phillips with No Comments
Custom Designed Photo Greeting Cards for Easter
This is another quick post to show off some of the greeting card designs that I have available, this time for Easter. All of these designs are completely customizable; I can quickly change the colors, the fonts, and of course the text. Alternatively if you have a specific idea for a card that you would like to send out I can create a custom design for you.
---