Posted May 29th, 2011 by Sean Phillips with No Comments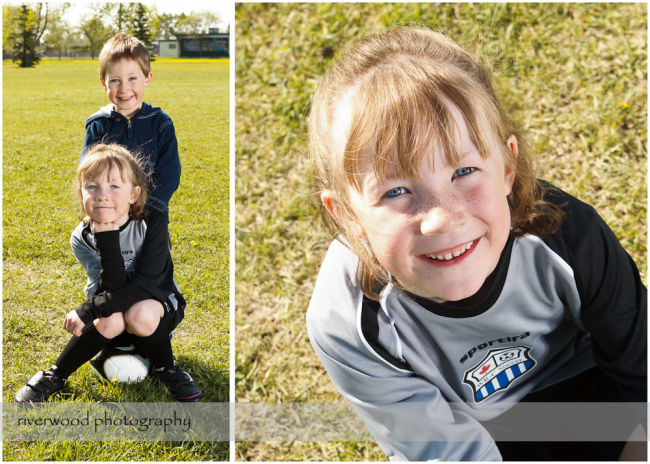 Today was picture day for my daughter Melanie's U8 Soccer Team. I was fortunate enough to be selected as the photographer for the league again this year. We were ahead of schedule and after Melanie's team was finished Melanie and Andrew were just hanging out and I was able to create a few cute images of them together.
On a related note, Andrew's soccer picture day was yesterday, but he refused to have his picture taken. He plays U4 in a different league and sadly for Andrew, I was not the photographer for that league. He was not interested in having some other photographer take his picture. Solidarity!
---
Posted February 13th, 2011 by Sean Phillips with 3 Comments
This is the next installment in my journey to share some of the important people and stuff in my life. I'm not sure where it's going to go in the future, but since I shared a few pictures of my daughter Melanie last week, I want to show you my son Andrew this week.
It was just the boys at home. The girls were off doing their own thing and Andrew and I had a relaxed morning and we hung out together at home. Andrew played with his toys and had lots of fun while I did a bunch of errands and cleaned up around the house. I like to watch and wait while Andrew plays. When he gets busy he goes off into his own little world with his toys and he can play by himself for hours. Although he has an ugly cold (and he needs a haircut so badly!) he still had his normally bright and cheery eyes, and of course that had me reaching for my camera. Children are always fun to photograph, especially my own!
---
Posted April 24th, 2010 by Sean Phillips with No Comments
There were so many more great moments from my impromptu portrait session with Andrew the other day that I had to package them up in a slideshow to show some more of them. I know he's my kid, and that I'm very biased here, but you have to admit that he really is very cute. This is totally unscripted as I just asked him to sit in the chair so that I could take a couple of pictures. He did the rest… Sometimes the best thing a photographer can do when things are going well is to just get out of the way and start making images!
---
Posted April 22nd, 2010 by Sean Phillips with No Comments
I got some new studio gear earlier this week (a brand new backdrop stand and black and white backdrops)! Getting new gear is always fun and I immediately dropped what I was doing and put this stuff into action. I needed this gear partially to replace some older multi-purpose equipment, but mostly because I really needed a dedicated backdrop. This equipment is much better than what I had been using and it will be faster and easier to setup and tear down than my old rig and it really is a pleasure to use!
I didn't just setup the backdrop stand though; I put it to use with the rest of my studio equipment and made some test images. Unfortunately the only model I had available for most of the shooting session was me! I'm not going to share any of those images with you though. As soon as my little boy came home I was able to drop him onto the set. He's a real ham and he loves to have his picture taken. He gets bored quickly though and I had to bribe him with some treats in order to prolong the session in order to finish my testing.
---